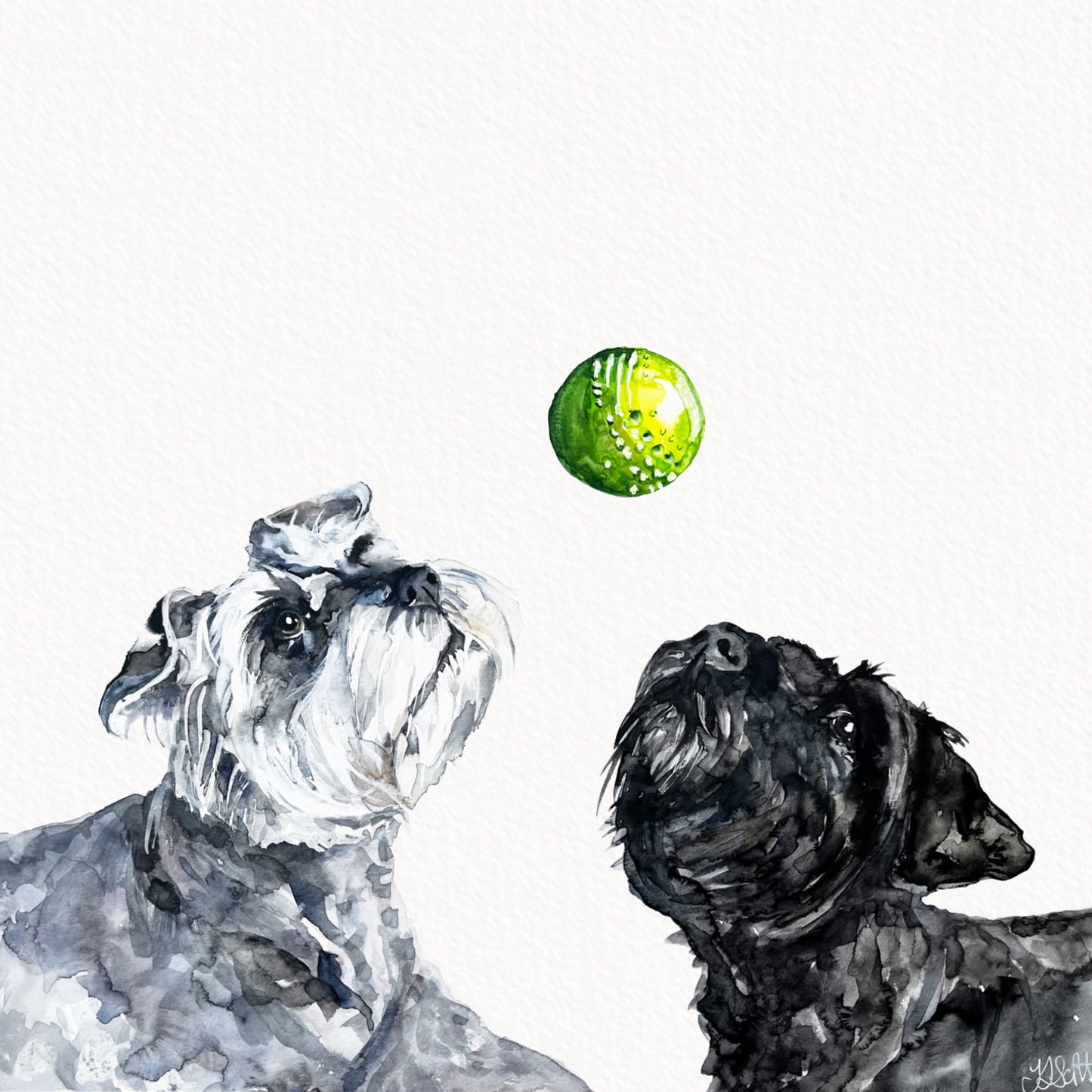 Commissioned Dog Portrait of 2 Minature Schnauzers
Recently I did a set of 3 paintings (and yes, I did have to double check the email I received) It's not often I get asked to do 3 paintings at once but it did give me a clear indication of just how special these dogs are to their owners…
It all started with a Birthday card from Moonpig, I've been designing for various companies in the online greeting card market since 2015 and Kieron was sent this card from a Canadian friend who knew he had two minature Schnauzers, he loved the dogs on the front of the card and looked up my details on the back and I think messaged me on Instagram asking about commission work, back in 2022.
Kieron tells me he received the same card again, the following year (from the same person!)
Moving forward to January this year, Kieron and his wife Sarah were on my waiting list and booked in for a 3 portrait commission of their two miniature Schnauzers. Bobby (salt and pepper) and Ella (all black), 2 standard individual portraits and a larger painting of them playing in action.
What was the process?
Kieron and Sarah sent me a large selection of photographs and picked out a couple of images for me that they felt really summed up the personality and character of their dogs
So far, so straight forward, I used a couple of the photographs as reference and painted these 2 standard portrait paintings, these are the final paintings from the photo's they provided
As for the larger painting, I did some quick watercolour sketches of some of the action photo's they'd sent, the 2 favourites were Ella in her downward dog play pose and the one of them both playing with a ball.
We took our time with this stage, there was plenty of thinking time, it was important to me that they didnt feel rushed into a decision when there was more than one option and I sketched out a few.
In the end they picked the playing with their ball scene.
The photo's were great but I never want to just copy a photo and if I'd done that, then we wouldn't have got any of this lovely detail .
With Bobby and Ella, I zoomed right in so I could get a lot of the lovely details and moved the ball in much closer so we could see the focus of their attention.
My benchmark for when a painting is finished is when I get goosebumps or a little 'shiver' of joy, then I know I'm happy to show my client the painting for approval
This is what they had to say when I sent them the final paintings;
 "The paintings have arrived safely and early.  We could not wait to get them open.
To say that we love them is an under statement. Both from close up and a far they are stunning.
You have captured our fur babies to a tee. We now need to find some suitable frames to do your fantastic art work justice and they will be on a wall in pride of place.
This has been an absolute joy from those first moonpig birthday cards to making contact and putting our names down then starting to work with you. 
These paintings show just how talented you are and in how you have captured the dogs soul in their eyes and playfulness in the big picture. We can't thank you enough. I am sure this will not be our last commission."
And it didn't quite stop there, I added them to my own range of dog breed greeting cards, they are currently stocked in The Candle Tree in Gloucester and DInky Donkey Delights in Arundel, they might still be available in my online shop too - here
If you'd like me to paint your dog(s)? It's as simple as getting in touch to start the ball rolling - to drop me a line click here