This store requires javascript to be enabled for some features to work correctly.
The essential things you need to know about me are as follows; I'll remember your dogs name before yours, I'll sit on the floor rather than disturb the dog in my chair and I've been drawing dogs for as long as I can remember. If you'd like to know more, carry on reading...
How did it all start?
My first love was Snoopy, I learnt to draw making notebooks and greeting cards for my family with pictures of Snoopy and Woodstock.  I was very young at the time so a lot of the humour went over my head, but I grew up reading the comics and had a huge collection of books. I still enjoy a Snoopy comic strip today and often dive into my old book collection.
I think a lot of my observations on interactions between dogs and humans stems from my love of Snoopy and the subtle details found within the stories.
Thomasina
My constant companion is the much-loved Thomasina (a mixed breed JRT, long haired dachshund, patterdale, petit griffon bassett) we have no idea, she was a rescue puppy and we love to guess.  She's a constant muse and the inspiration for a lot of my work.
We named Thom before we got her (the plan was for 3 dogs, Tom, Dick, Harry), but Thom was a girl, hence Thomasina, and with all our travels, it's much easier to do with just the one dog, plus she is now 10 years old and simply wouldn't tolerate new company. Dick and Harry will have to wait...
Crufts
I can be found in person, once a year at Crufts at the NEC in Birmingham in March.
It's great to meet you in person so do come and introduce yourself.
It's truly an exhilarating 4 days with upwards of 130,000 dog lovers under one roof over the duration, there really is no other feeling like it.
Occasionally I attend other shows in the UK but they've become less frequent and sometimes last minute.
I share all shows and events with my email list so do sign-up if you'd like to know where I'll be next.
Travelling
In July 2020 we bought a motorhome and haven't looked back.
Over the past few years I've downsised my studio in the UK, we've increased our trips away, around the UK and Europe.
This has meant changes in how I work, greeting card design and freelance illustration is easy and I can do from anywhere.
The increasing demand for my watercolour pet portraits has meant I'm only open for new commission work once or twice a year so I can manage the work more easily.
I do send updates to my email subscribers and often share my sketchbook, you can sign up here
Awards
I have won some lovely awards, including a best new product award in 2016 at the Spring Fair in Scotland for my 'Today I will be...' range of greeting cards.
And in 2017 I won the trophy for best charity calendar for my work on the Helping Paws Dog Rescue calendar. It beat the naked rowers calendar...just saying!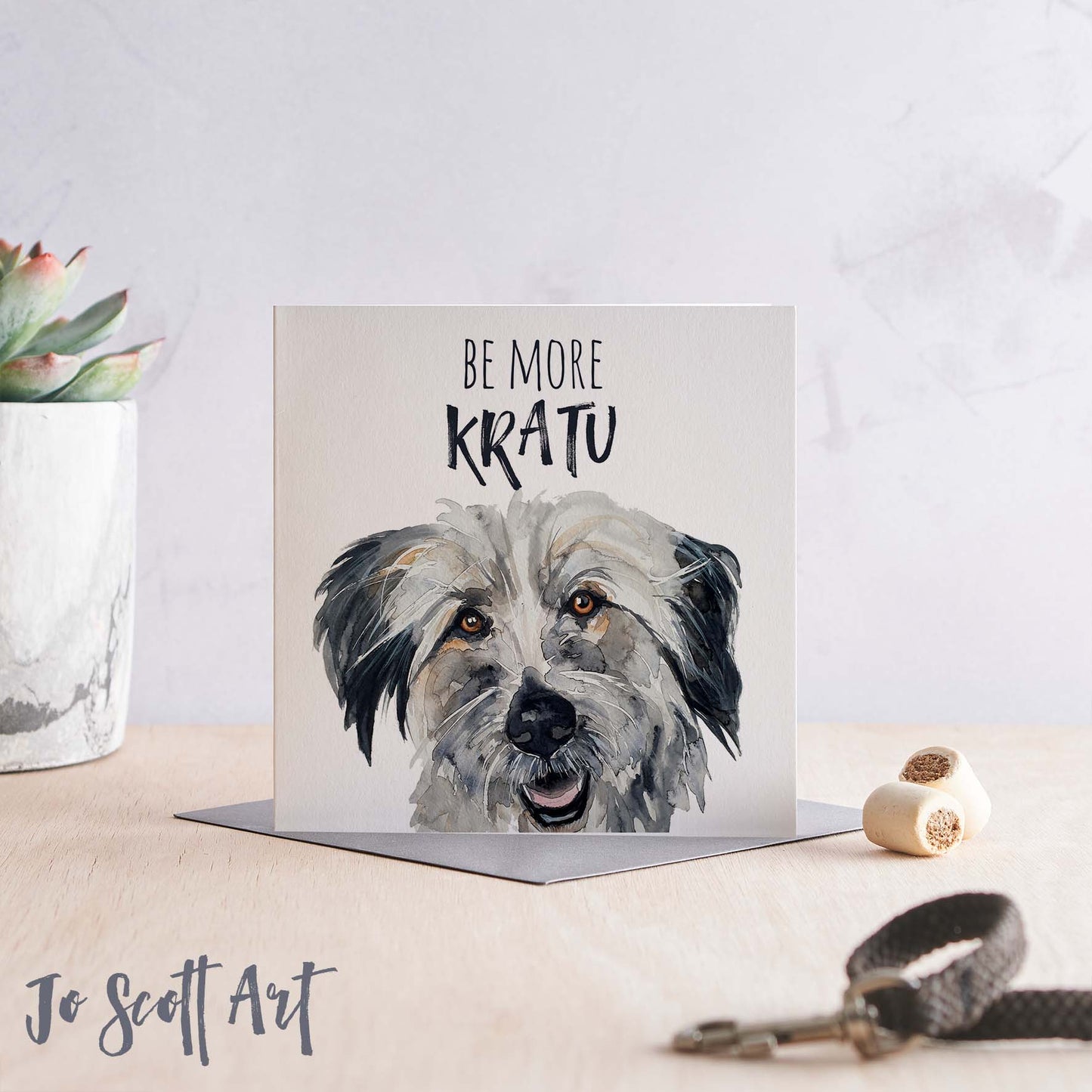 Giving Back
Not all dogs are as lucky as the ones I get to paint for a living and whilst in 'theory' I would love to be active in animal rescue and be that person who rescues animals who are trapped and being mistreated, in truth, I am not emotionally equipped for that job.
As a child I don't think I recovered emotionally after watching Lassie! So I know I'm not suitable to be at the sharp end of dog rescue.
When the likes of Karen at Helping Paws, Maggie at FODDR or Tess Swan and the incredible Kratu ask me to help, this, is something I know I can do to help.
I have a core set of charities I work with each year and I try and help as many others as I practically can.
It's not something I've kept a running total of but I know I've helped fundraise thousands of pounds and that for me is as close as I'll get to that feeling of being at the sharp end!
Any auctions, raffles or donated portraits are always announced in my emails as well as by the charity itself.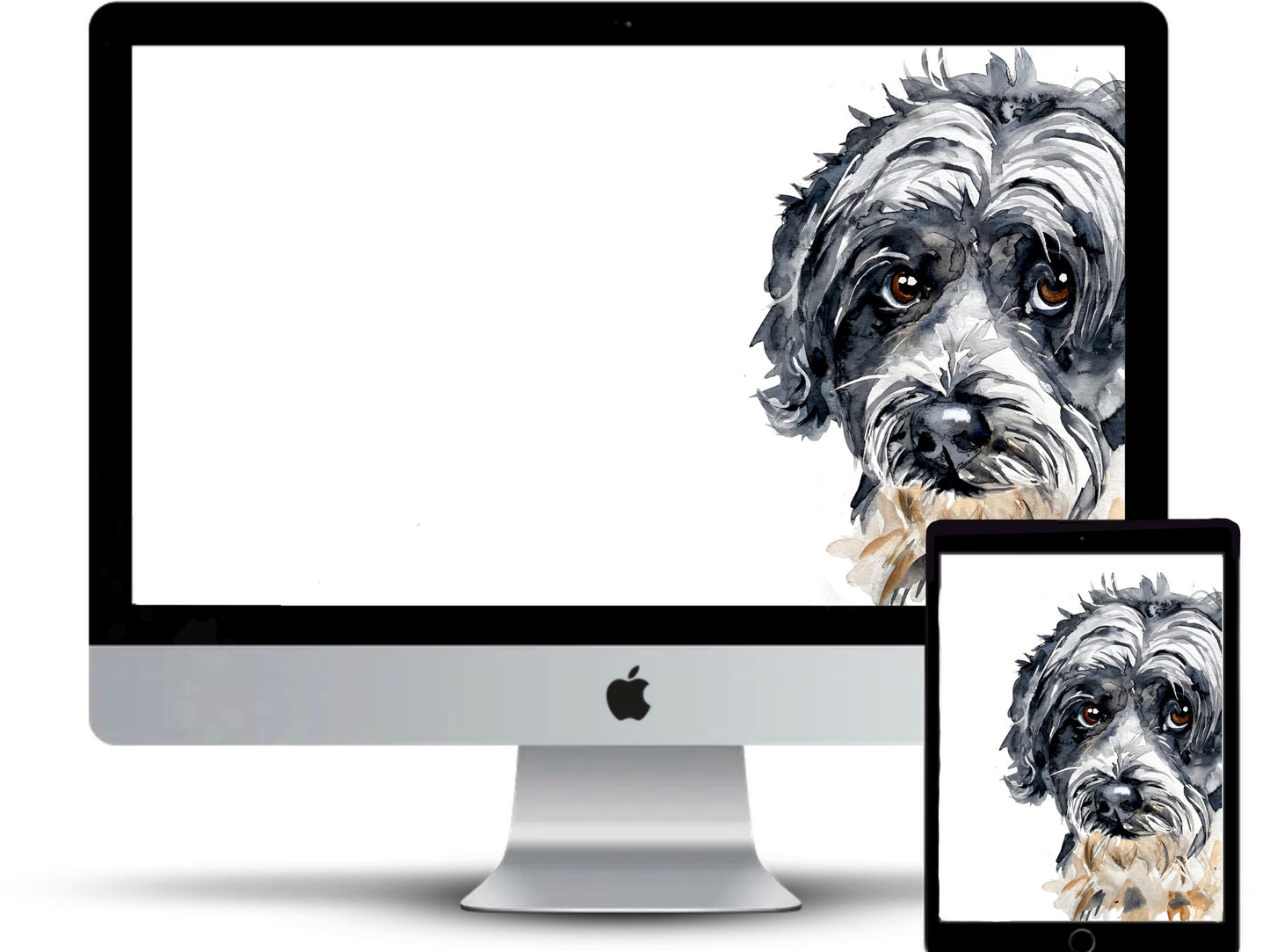 Sign up for free dog art
Every month I send out free art for use on your phone and desktop. You're the first to hear about any new work available and any special offers.
Yes please